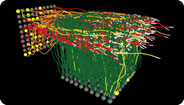 Neural growth can be simulated, achieving up to 130x accelerations compared to current-generation x86 microprocessors.
Applications under active development at Evolved Machines include visual object recognition and odorant recognition. To develop devices which can learn objects and then recognize them in real world environments, the synthetic neural circuitry gradually "wires" itself during exposure to sensory input, much as a baby learns to recognize objects in its environment over the first 6 months of life.
With the GPU, devices with the ability to learn and sense odors to detect explosives in real environments or monitor food for freshness become possible. Further advances in image detection for building image databases based on content and self guided robotics can exploit neural simulation processing to bring a level of capability not currently possible.
For more information about NVIDIA GPU Computing solutions, visit: www.nvidia.com/tesla