Fascination with the planet Mars has grown over the centuries. The discovery of canals by astronomers in the late 1800s, and the first views provided by the Mariner 4 spacecraft in 1965, inspired a search for life on the Red Planet. Today, the search focuses on water. By learning more about the history of water on Mars, scientists hope to replace myth with reality and answer some of the larger questions about our universe.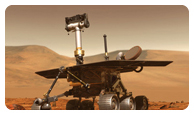 Spirit Mars Exploration Rover.

NASA's 2004 mission to Mars deployed two golf cart sized rovers equipped with cameras and scientific instruments for viewing and analyzing the surface. Mission scientists need a fail-safe way to plan the movements of the rovers, ensure successful operation, and maximize knowledge gained. NASA scientists chose professional computer graphics technology from NVIDIA® to meet its needs.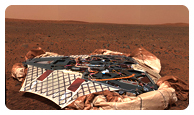 Spirit's lander platform.

NASA is using NVIDIA graphics technology to reconstruct Martian terrain from transmitted rover data in photorealistic virtual reality, allowing scientists to explore Mars in 3D as if they were actually moving freely on the planet's surface. This NVIDIA-powered environment serves as a precise visualization and planning system for NASA scientists, allowing them to rehearse a variety of Mars rover scenarios, mapping out moves and experiments by "flying" through highly realistic 3D reconstructions of the Martian surface, prior to directing the vehicle to undertake actual tasks.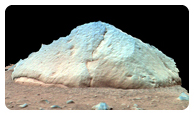 A view from the Spirit of a rock called "Adirondack".

NVIDIA graphics help scientists determine rover activities without having to sift through massive amounts of photographic data. NASA scientists use NVIDIA graphics to visualize high-resolution photographic imagery more than three times as detailed as images sent from the Sojourner rover in 1997. This greatly enhances scientists' understanding of the environment, while making analysis of data easier and more streamlined.

NASA scientists are able to better conceptualize terrain scenarios and map out rover moves and activities prior to directing the rover-thus saving time and energy. NVIDIA graphics technology helps NASA share the knowledge gained from Mars rover missions with the world. Scientists worldwide can access and study the largest and most topographically accurate 3D models ever constructed during remote space exploration. With the routine posting of NVIDIA-generated images on the Web, the public can also virtually participate in NASA's search for life on Mars.

More Information
For more information about NASA's Mars rover project, please visit: //marsrovers.jpl.nasa.gov/home/index.html

All images courtesy of NASA/JPL-Caltech/Cornell.