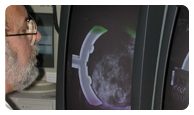 Dr. Kopans views tissue in 3D.

Almost a quarter of a million American women are diagnosed with breast cancer every year. Breast cancer remains at the top of the list of non-preventable cancers. Early detection remains a vital strategy and the major proven method for reducing breast cancer mortality.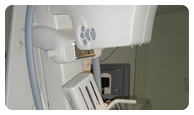 DBT machine.

A team of researchers at the Massachusetts General Hospital (MGH) in Boston, MA have developed a new weapon in the fight against breast cancer—a better mammogram. With its prototype digital breast tomosynthesis (DBT) imager, developed with the assistance Mercury Computer Systems in Chelmsford, MA; the MGH technique eliminates superimposed normal breast tissue that can obscure cancers on standard mammograms. This allows for improved detection and earlier treatment in the tumor growth cycle.

"A standard mammogram examination captures a single image of an entire breast," explains Dr. Kopans, "The problem is that everything in the breast, from one side to the other, is superimposed into one 2D view…DBT enables us to look...into a 3D visualization of the breast. Individual layers in the breast tissue are visible separately from overlying and underlying structures making it harder for cancers to hide..."

Mercury made the DBT processing practical. Instead of using a cluster of 32 PCs for the computationally intensive image-processing algorithm, Mercury designed a solution based on NVIDIA® graphics technology--a key element, providing near real-time results.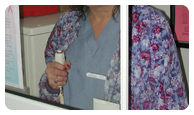 Radiologist takes tissue images with ease.

The results have been astounding. Mercury was able to implement a solution using a single NVIDIA Quadro graphics board that is able to generate imagery as fast as the MGH 32 processor cluster (that occupied half a room), in under five minutes, more than 60 times faster than the previous single system solution. Since that time, NVIDIA Quadro graphics and PCI Express technology have enabled this latest solution to reduce the image processing time another 50%. These results prove feasibility for life saving DBT technology on a wide spread basis.

Radiologists can take advantage of the new solution with minimal additional training. Cancers are more easily seen and benign lesions can be differentiated easily. Benefits to the patient are many. Exams require only one breast compression, as opposed to two with traditional mammography. Results are quicker and more accurate, allowing complete breast exams to be done in a single visit, requiring fewer follow-up examinations. The application of DBT provides many advantages and increased value through a comprehensive and technologically advanced system; making life easier and less stressful for doctors, radiologists, and patients.

Contact Information
For more information about Massachusetts General Hospital, please visit: //www.massgeneral.org

For more information about Mercury Computer Systems, please visit: //www.mc.com

Images courtesy of Massachusetts General Hospital.