Researchers at Stony Brook University are refining the science of drug discovery. Using computational methods, Robert Rizzo's team is working to identify small molecules that can be used as anti-cancer agents or as antiviral inhibitors for HIV, influenza, and SARS.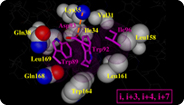 A close-up view of a targeted binding site on an HIV viral protein molecule.

Under the broad category of computational biology and structure-based design, the overall goal of Rizzo's research is to quantify and understand molecular recognition at the atomic level. Large databases of potential drug compounds must be searched. Computational methods point to the best candidates, but ultimately the team must visually inspect molecules and evaluate their suitability for binding to the target protein or virus under study.

3D graphics have been used for many years to allow researchers to visually evaluate molecule surfaces. Stereo graphics devices—special glasses that fool the eye into seeing sharper, more realistic depth and dimension—have been commercially available for some time but were originally supported only on expensive, proprietary, high-performance graphics systems. The cost restricted the number of research stations available at Stony Brook, and therefore slowed research.

A representative compound (green) is evaluated for compatibility with the HIV binding site (gray) using NVIDIA Quadro graphics.

NVIDIA Quadro graphics have put stereo optics within reach of the entire team. Rizzo explains,

"With a simple PC and a video card, I can virtually step inside a complex molecule and find the best docking sites for potential drug compounds. My grad students were right—NVIDIA gives us the best visual quality and graphics performance for our work."





With enhanced visual clarity, researchers can better understand the interactions between compounds. The high-quality stereo visualizations translate into the discovery of more effective drug compounds, more affordable alternative compounds, and ultimately treatments that reach more patients and save more lives.
Contact Information
For more information about this research at Stony Brook, please visit: //www.ams.sunysb.edu/~rizzo.
Images courtesy of Stony Brook University.